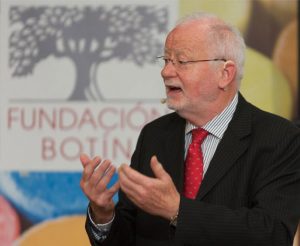 International lecturer, Writer, School Principal and Consultant.

Christopher Clouder was the founding director of the Botin Platform for Innovation in Education  which published four reports that survey and evaluate social and emotional education in 21 countries. He has also researched and published two reports on the theme of Creativity for the Botin Foundation.  The first Creativity report "Good Morning Creativity" was published in October 2012.  The second – Arts and Emotions – Nurturing our Creative Potential – was launched in May 2014. All available on the internet in English and Spanish. The Platform is active in inspiring and empowering teachers to develop creative and innovative methods and practices in their classrooms to meet the needs of contemporary children. It it is also researching how the arts can foster and enhance human creativity and gives talks on the evolution of consciousness through art.
Christopher is the School Mentor at Scuola Waldorf Firenze and the Liceo dei Colli a new innovative secondary school just outside Florence in Italy. It opened in September 2013 with a creative, arts-rich and inspiring curriculum that serves the development and needs of young people in way that is appropriate and meaningful for the 21st century. href="http://www.liceodeicolli.com" target="_blank">See www.liceodeicolli.com. He is also the advisor to the European Network of Steiner Waldorf Parents http://www.waldorfparents.netand the Tretzevents school in Barcelona http://www.waldorftretzevents.cat
Christopher was the founder and CEO from 1990 to 2012 of the European Council for Steiner Waldorf Education which represents some 710 schools in 27 countries.  He was also a member and Chair of the Executive Group of the Steiner Schools Fellowship for the UK and Ireland for two decades until 2010. Before this he started his career as a teacher, working with children in a Steiner school for special needs. He then went on to teach in a large secondary school in the Netherlands as head of a department, where he co-founded a Waldorf Steiner school in Middelburg, and following this he taught humanities in the high school in two Steiner schools in the UK.  He is a long-standing member of the International Forum for Steiner/Waldorf Schools http://www.haager-kreis.org  and a Fellow of the Learning for Well-Being Community in Brussels http://www.l4wb.org He is a trustee on the board  Tobias School of Arts and visiting lecturer at the Madrid Steiner Teacher Training Seminar and Stuttgart Waldorf  Masters Course.

He has lectured widely, written and compiled books and many articles, and lectured at  many international conferences, not only on Steiner education but also on other educational and cultural subjects. In 1997 he cofounded the Alliance for Childhood a global network which campaigns for the right of young children to be allowed to experience their childhood in a healthy and fulfilling way.  He intiated the Quality of Childhood working sessions held six times a year in the European Parliamnent. Christopher is a Fellow of the Royal Society of Arts. He participated in a successful EU funded programme to create a Masters in Steiner Education and was part of another EU funded programme team on Identifying Teacher Quality. He was the co-instigator of WOW day which raises funds for deprived and disadvantaged children around the world. He is a Fellow of the Learning for Well-being Community and a consultant for the Universal Education Foundation.
He has made many presentations in the EU and was instrumental in gaining public funding for Steiner education in England. He has worked closely with educational policy makers in the UK and Europe, negotiated with Ministers, shared platforms with many academics, worked as a school consultant and is considered an authority in Steiner and Creative Education. He has co-authored, edited and co-edited 17 books on education, creativity and childhood. He receives many invitations to lecture internationally and finds the research into different cultures and their artistic and aesthetic forms of expression a source of fascination and inspiration. He sees his work as serving to build bridges between educational cultures, be they political, social, cultural or academic and creating a consciousness of solidarity and understanding for the benefit of children